Residential Locksmith in Seal Beach, CA
What would you do if you found that someone had invaded your home? If you do not, then you should reach out to us immediately so that we can provide you with the best services and solutions related to locks. What are you waiting for? You will be happy with what we can offer you. Call Residential Locksmith in Seal Beach, CA, today and allow us to provide you with the assistance you require at a price you can afford without hesitation.
What's holding you back? Call our Residential Locksmith in Seal Beach, todayy, and let us assist you today!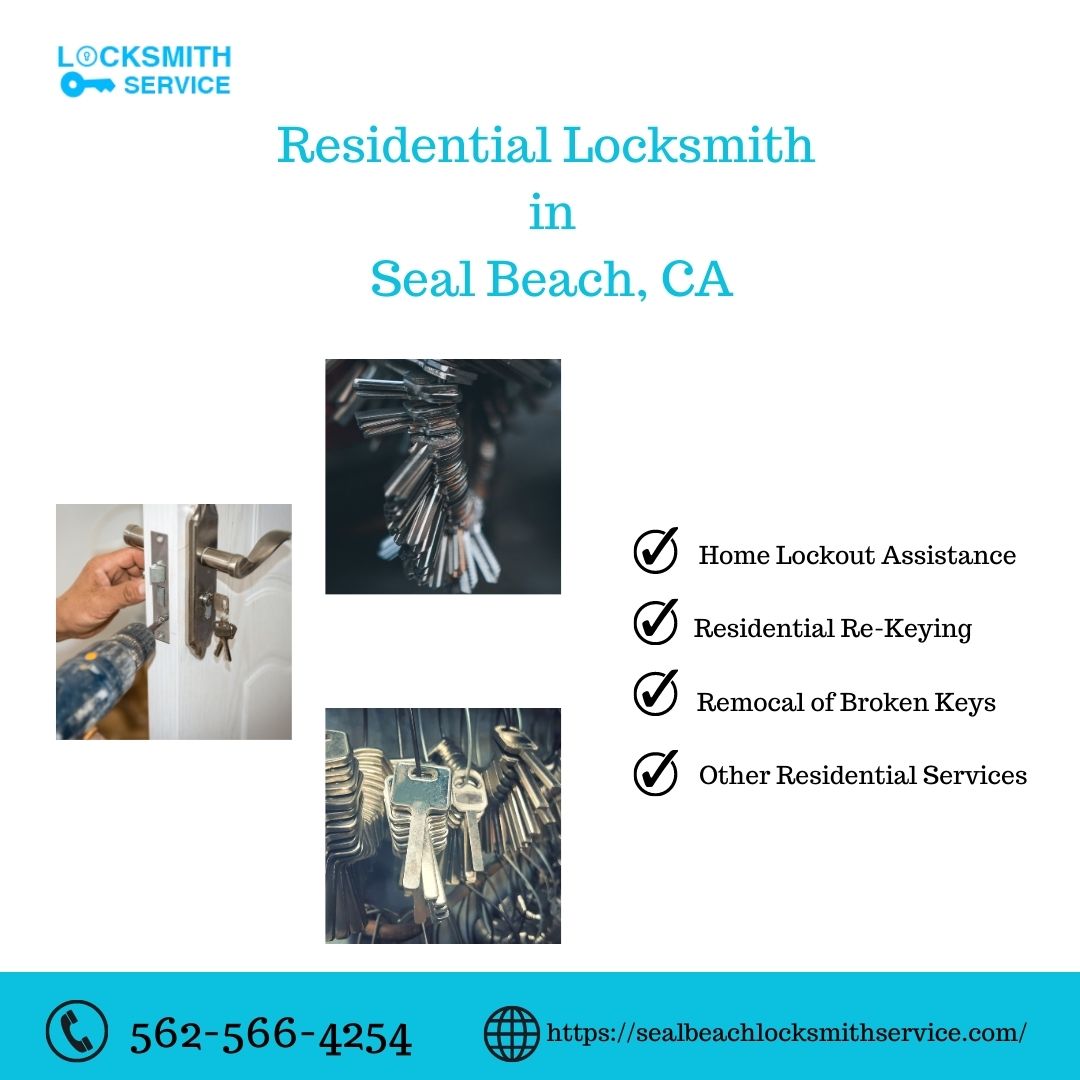 How exactly can we assist? If you call Seal Beach Locksmith Service, you will learn that we can and will hurry to your home promptly to install services such as deadbolt installation, bump-proof lock installation, and many more.
Think about it: you will no longer have to worry about someone breaking into your home and stealing what is properly yours. Instead, your residence will be safeguarded at all times, which is a guarantee we can keep. What's holding you back? Contact our residential locksmith in Seal Beach, California, immediately to understand how we can assist you most effectively.
Residential Locksmith in Seal Beach, CA
Need a Residential Locksmith in Seal Beach, CA? When looking for a residential locksmith, contact Seal Beach Locksmith Service at562-566-4254. We are a reliable, local, insured, bonded, and licensed locksmith business. You will be in good hands with us for any residential lock issue you may have. At Seal Beach Locksmith Service, we are committed to performing the job correctly the first time. It is essential that you feel safe and secure in your house, particularly in terms of the safety of your loved ones.
By following a few of our recommendations, you can prevent your family from feeling vulnerable in your house after a break-in.
Guidelines For a Safe & Secure Home From A Residential locksmith in Seal Beach, CA
Seal Beach Locksmith Service is the top residential locksmith service in Seal Beach, California. As shown in popular culture, a thief does not wear all-black clothing, a mask, and high-tech gear. A burglary occurs with a simple kick-in of the front door, and the intruder is in and out of the residence within minutes.
Sadly, this is because locks and doors of inferior quality are placed in most homes today. For instance, the striking plate that holds the lock into the door frame is "secured" by a half-inch screw to a half-inch thick door frame, which, as you can guess, does not provide sufficient security to prevent brute force entrance.
Seal Beach Locksmith provides a variety of choices to meet your specific requirements. Optionally, you can replace your strike plate with a heavy-duty strike plate that is fastened not to the door frame but to the framework with a four-inch-long screw; this will connect to the two-by-fours and significantly enhance the security of your home.
Residential Locksmith in Seal Beach, CA Mobile Service
Seal Beach Locksmith Service provides residential mobile locksmith service seven days a week, twenty-four hours a day, seven days a week. Our mobile locksmith service vans are ready with the most advanced and cutting-edge locksmith technology available. Call us at 562-566-4254 immediately. Within 15-30 minutes, our dispatch will send a professional residential locksmith technician to your area.
Each residential locksmith professional has the experience, tools, hardware, and equipment necessary to resolve your issue on the spot. We have seen everything. As stated, our goal is to help you.
We are confidently here for you. We have a license, a bond, and insurance, and our hardware installations are 100% guaranteed.
Why choose Seal Beach Locksmith Service for your Seal Beach, CA, locksmith needs?
We are a locally owned and operated Seal Beach, California-based locksmith service provider that has invested time and effort into keeping up with the ever-changing Security Industry technology. We place a strong emphasis on customer service and satisfaction and take customer feedback extremely seriously.
The owner witnessed the transition from standard mechanical keys to keys with integrated microchips for enhanced security. By remaining ahead of the curve, we could adapt to the new technology to produce intelligent proximity fobs (keyless entry systems).
Many other locksmith companies still need to, rendering them outdated.
Our experts are ready with the necessary on-site tools for residential doors, and we take pride in our job. This ultimately leads to greater client satisfaction with our repair services and lock installations.
Our Seal Beach Locksmith Service can provide the following services in the Seal Beach, CA, area within minutes of your call:
Installation, maintenance, and replacement of all home lock kinds and brands

Re-keying for all lock types and manufacturers

Installation, maintenance, and replacement of locks for mailboxes, filing cabinets, and safes.

Electronic door locks and WiFi-enabled devices, including hands-free locks

Change locks on mailboxes and filing cabinets

Removal of broken keys

Home lockout assistance

Residential re-keying services
24/7 Immediate Residential Locksmith Service
The security of your house and family members is a continuous process. Your residential lock servicing is, therefore, a key priority for us. You may rely on us whether you find a broken door lock during the day or at night. When you contact us, our professionals will locate you within 15 to 30 minutes, assess the situation, and plan a course of action in collaboration with you.
Even with high-security lock systems such as deadbolts and burglar alarms, criminals and burglars have developed sophisticated tools and techniques to break into residences. We can therefore ensure that you will receive the best possible advice before installing new locks in your home.
You may depend on us to deliver locks that are ideally suited to your present needs.
Our prices are reasonable and structured for your convenience. Feel free to call Seal Beach Locksmith Service at 562-566-4254 whenever it is convenient; we have a wide variety of lock systems and a professional staff to meet your individual needs.